What is BOPACS?
BOLTLESS ASSEMBLING OF PRIMARY AEROSPACE COMPOSITE STRUCTURES
The small or medium-scale research project BOPACS concentrates on the bonding of primary composite structures in compliance with the EASA airworthiness regulations. Therefore a thorough research is performed into the propagation of cracks into the bondline area and subsequently the development of features that can be implemented to arrest or slow down the propagation of cracks. The project is executed by a team of European industries, institutes and universities.
The project started in September 2013 and has a lead time of 49 months.
The website gives information about the content of the project and the dissemination activities.
Project
BOPACS is set to reduce the weight and costs of primary composite aerospace structures by enabling secondary bonding as joining technology. Until today thin walled composite structures are joined by using a large number of fasteners. Adhesively secondary bonding would considerably contribute to the weight and cost reduction but they can not fulfil the airworthiness requirements up to now. In order to meet airworthiness requirements for secondary bonded structures BOPACS proposes a rigorous road map to certification by developing Means of Comply based on:
Thorough research, beyond the state of the art, into the crack growth / disbond extension mechanisms in adhesively bonded joints.
Design, analysis, testing and assessment of different categories of crack stopping design features, i.e. features that are capable of preventing cracks or disbonds from growing above a predefined acceptable size, with a joint still capable of carrying the limit load.
This topic is considered as a breakthrough technology. It secures structural integrity of the bond line throughout the entire service life. NDT and process safety are not considered to fill in this gap. Based on aerospace target applications secondary bonded joining methods will be developed that comply with the EASA airworthiness requirements.
Papers
| | |
| --- | --- |
| Title | Author |
| Fatigue behaviour and damage tolerant design of composite bonded joints for aerospace application | T. Kruse, T. Körwien and R. Ruzek |
| Numerical simulation of fatigue crack growth in the adhesive bondline of hybrid CFRP joints | R. Sachse, A.K. Pickett, M. Käß, P. Middendorf |
| A Hybrid Bondline Concept for Bonded Composite Joints | T. Löbel, D. Holzhüter, M. Sinapius, C. Hühne |
| Experimental investigation of mechanical fasteners regarding their influence on crack growth in adhesively bonded CRFP-joints subjected to fatigue Loading | R. Sachse, A.K. Pickett, W. Adebahr, M. Klein, M. Käß, P. Middendorf |
| Bonding of cfrp primary aerospace structures – crackstopping in composite bonded joints under fatigue | T. Kruse, Dr. T. Körwien, S. Heckner and Dr. M. Geistbeck |
| Mode-I, mode-II and mixed-mode I+II fracture behavior of composite bonded joints: Experimental characterization and numerical simulation | I. Floros, K.I. Tserpes, and T. Löbel |
Presentations of BOPACS
Partners
Coordinator: NLR
List of participants:
Logo / website
Participant organisation name
Country
Netherlands Aerospace Centre – NLR
NLD
Cenaero ASBL, Centre de recherches en Aéronautique
 BEL
Université Catholique de Louvain,
Institute of Mechanics, Materials, and Civil Engineering
BEL
Société Anonyme Belge de Constructions Aéronautiques SABCA S.A.
BEL
Výzkumný a Zkušební Letecký Ústav, A. S.
CZE
Deutschen Zentrums für Luft- und Raumfahrt
DEU
Institut für Flugzeugbau, Universität Stuttgart
DEU
Airbus Defence and Space GmBH
DEU
Laboratory of Technology & Strength of Materials, University of Patras
GRC
Zurich university of Applied Science
CHE
Bombardier Aerospace – Belfast
GBR
Fraunhofer Institut für Fertigungstechnik und angewandte Materialforschung
DEU
Airbus Operations GmBH
DEU
FIDAMC
ESP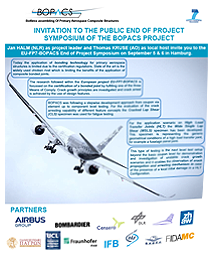 BOPACS End Symposium
Was held on September 5 & 6 @ Hamburg
Contact
Please feel free to contact us:
Jan Halm
R&D Engineer, Netherlands Aerospace Centre NLR
E-mail: jan.halm@nlr.nl
Phone: +31 88 511 4204